Happenings
---
HAPPENED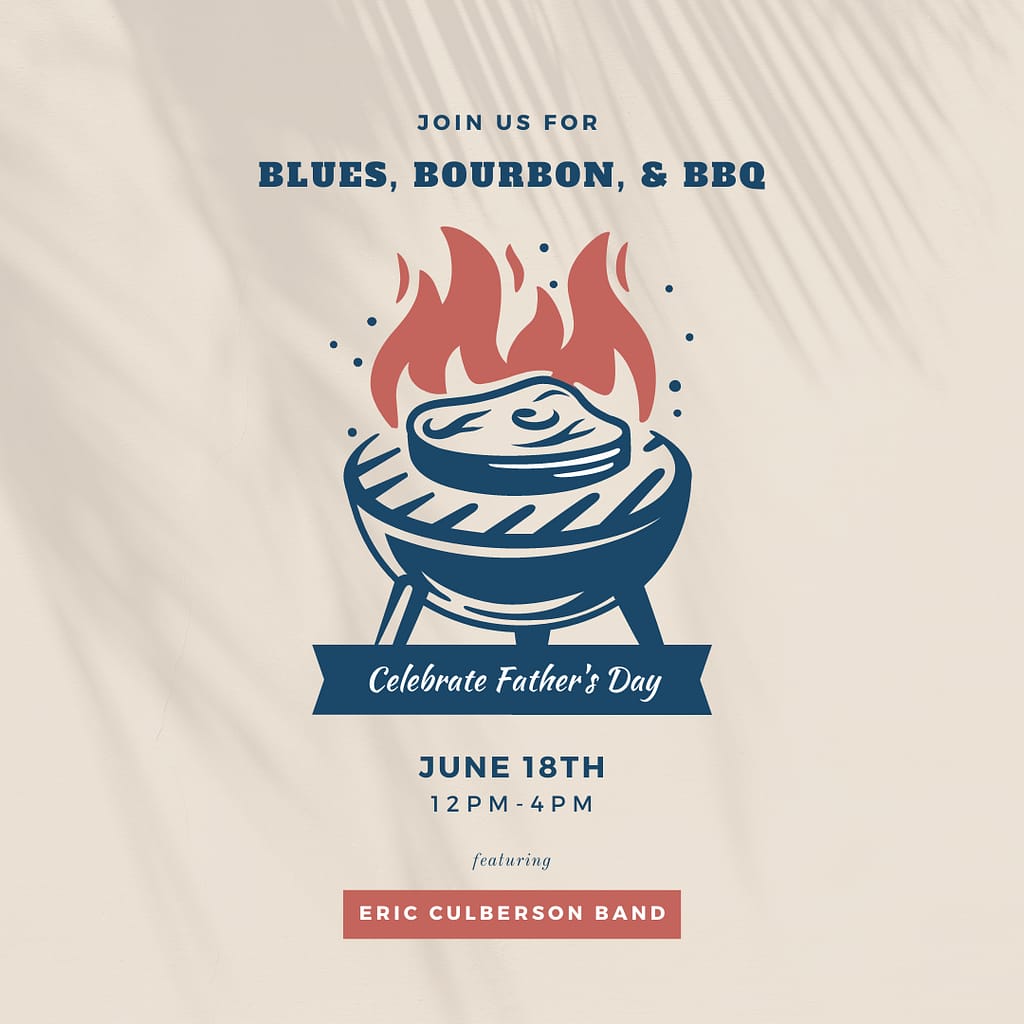 Blues, Bourbon, & BBQ
Join us on June 18th from 12pm-4pm for an afternoon filled with the finest BBQ, soul-stirring blues music, and bourbon that's as smooth as Summer breeze handcrafted by our friends at Woodford who will be there to level up your afternoon with complimentary samples of their top-shelf bourbon. Indulge in these tastings and find a new favorite!
Don't miss live performances by the incredible Eric Culberson Band from 1-4pm.
---
Oyster Roast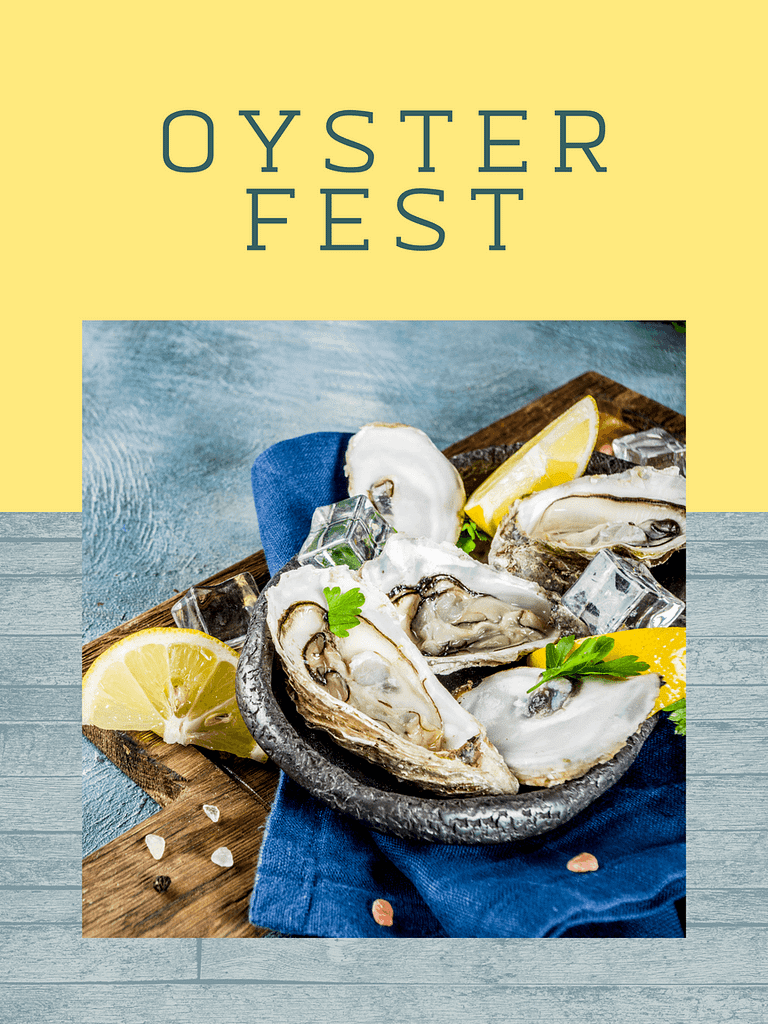 Join us on March 5th from 12 to 4pm for an unforgettable afternoon the Peregrin rooftop!
We're hosting a one-of-a-kind oyster roast, complete with live music, oyster shucking, and incredible food and drink specials.
Enjoy a lowcountry boil or oysters by the dozen and take in the stunning views of Savannah's skyline making it the perfect Sunday outing!
The Lowcountry Boil Band will be be entertaining us with their fun musical stylings from 1 to 4pm.
Make sure to come visit it us, this is an event you won't want to miss!
---
Celebrating Hospitality Professionals
Monday Nights
50% off select drinks
---
HAPPENED
---
Savannah Day
Our Mayor has announced that September 12th is a day to celebrate our amazing city, naming it Savannah Day!
To celebrate, we will featuring Savannah's signature cocktail, but making it even cooler! Stop by to enjoy our Frozen Chatham Artillery Punch while enjoying the most!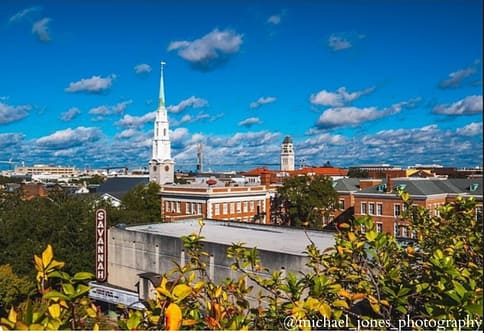 Available September 12th through the 19th.
---
HAPPENED

Join us on Friday, February 11th from 6-9pm for the Dueling Pianos!
This event is complimentary, reservations ae not required.
.
We will be offering drink specials through Monday. Stop by to enjoy cocktails with a picturesque view, perfect for a romantic outing!
HAPPENED
2021
Pups at Peregrin Adoption Event
Join us on Sunday, April 25th from 12-4pm
Come and meet the dogs, fall in love with them, and add a new addition to your family!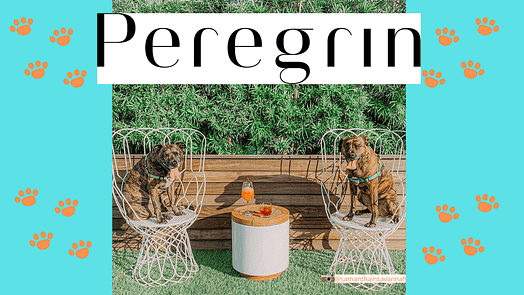 There will be live entertainment with DJ Will Smith, Oliver Bentley will be with us to offer premium dog treats, and of course, the Coastal Pet Rescue will be bringing in dogs for you to fall in love with!
Throughout the month of April, $1 from each drink ordered from our specialty menu will be donated to the Coastal Pet Rescue.
Join us in Celebrating
St. Patrick's Day!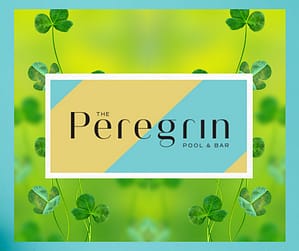 We will be offering food & drink specials the 12th, 13th, 14th, &17th
Featuring live music!
The Band: Liliac
13th: 5-9pm
14th: 2-6pm
17th: 5-9pm
21 & over only
No cover charge
JOIN US FOR LIVE MUSIC AND REINDEER!
Included in the ticket is:
Live music, a photo op with live reindeer, Vixen and Blitzen (our apologies, Rudolph had a prior engagement, but he sends his best), and unlimited rum punch
We received the flight path for Santa's reindeer and Peregrin is on it! Our reindeer friends will be making their way up to the roof to have their photos taken with none other than you!
Lowcountry Boil Bluegrass Band will be there to serenade you with music stylings that will be sure to bring you tidings of comfort, joy, and of course laughter!
We are teaming up with Bacardi to bring you the tastiest rum punch the South has ever seen!
Get ready to celebrate the holidays Lowcountry style!
Adults Only
$75 per person
Make sure to get your tickets by clicking
here!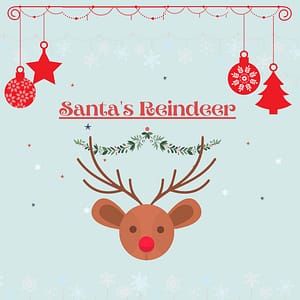 We received the flight path for Santa's reindeer and Peregrin is on it!
Our reindeer friends will be making their way up to the roof for a meet and greet with your little ones.
Join us for the festivities and take photos with Santa's reindeer!
Enjoy complimentary hot cocoa and cookies while you wait.
To get your tickets, click here.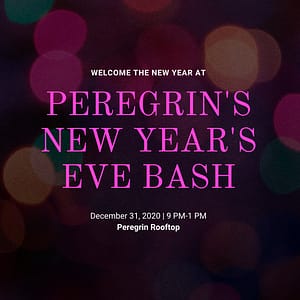 Welcome in the New Year with specialty cocktails, food, and live music. We are ready to celebrate and we hope you will join us! There will be no cover charge for this event.
Attend Savannah Jazz's special concert fundraiser celebrating Howard Paul's 60th birthday featuring Howard Paul Quartet!
Enjoy live music while sipping cocktails!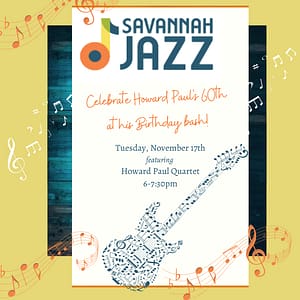 Seating is limited, make sure to purchase tickets to reserve your spot!
---
We are teaming up with Ōtium Studios, a boutique yoga, fitness and wellness studio located just steps from Perry Lane Hotel.
Ōtium translates to "personal sanctuary". Become one with your inner self and join us for our Summer Wellness Series.
To sign up, you can head to Otium's website or guests can contact Perry Lane at 912-415-9000. Guests of the hotel get discounted classes.
Peregrin St. Paddy's Day Kick Off
Join us on the rooftop for a night of live music.
Sip cocktails at sunset and savor the stunning view of the Savannah skyline while listening to the music of the great Benedetto Duo with Howard Paul and Maggie Evans.
Seating is limited, make sure to get front row seats by making a reservation.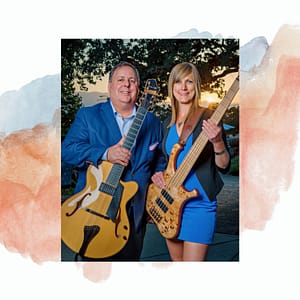 March 13th and 14th
We will be taking to the rooftop to kick off the St. Paddy's Day festivities!
LIVE ENTERTAINMENT & SWAG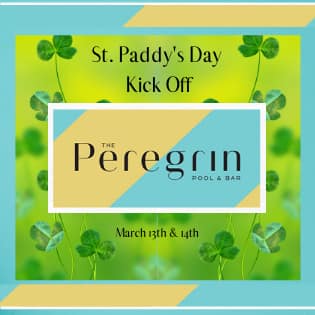 Friday, March 13th
5pm-1am (no cover)
Seldom Sober: 6-9pm
Saturday, March 14th
Live entertainment starts at 12pm with Sarah & Ryan
Danielle Hicks: 6-9pm
FOOD & DRINK SPECIALS
Benedetto Duo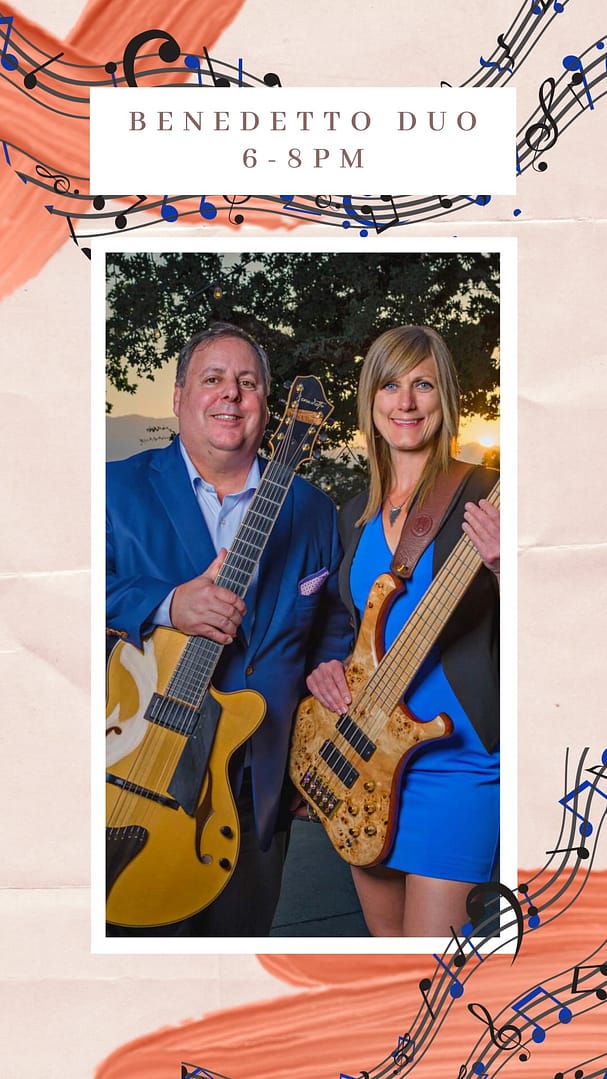 March 24th & April 7th
6pm – 8pm
Movie Night(s)
We are pairing up with Montage Cinemas to bring you a Movie Night on the Rooftop with a 16ft screen! Check back for upcoming dates.
NYE in Savannah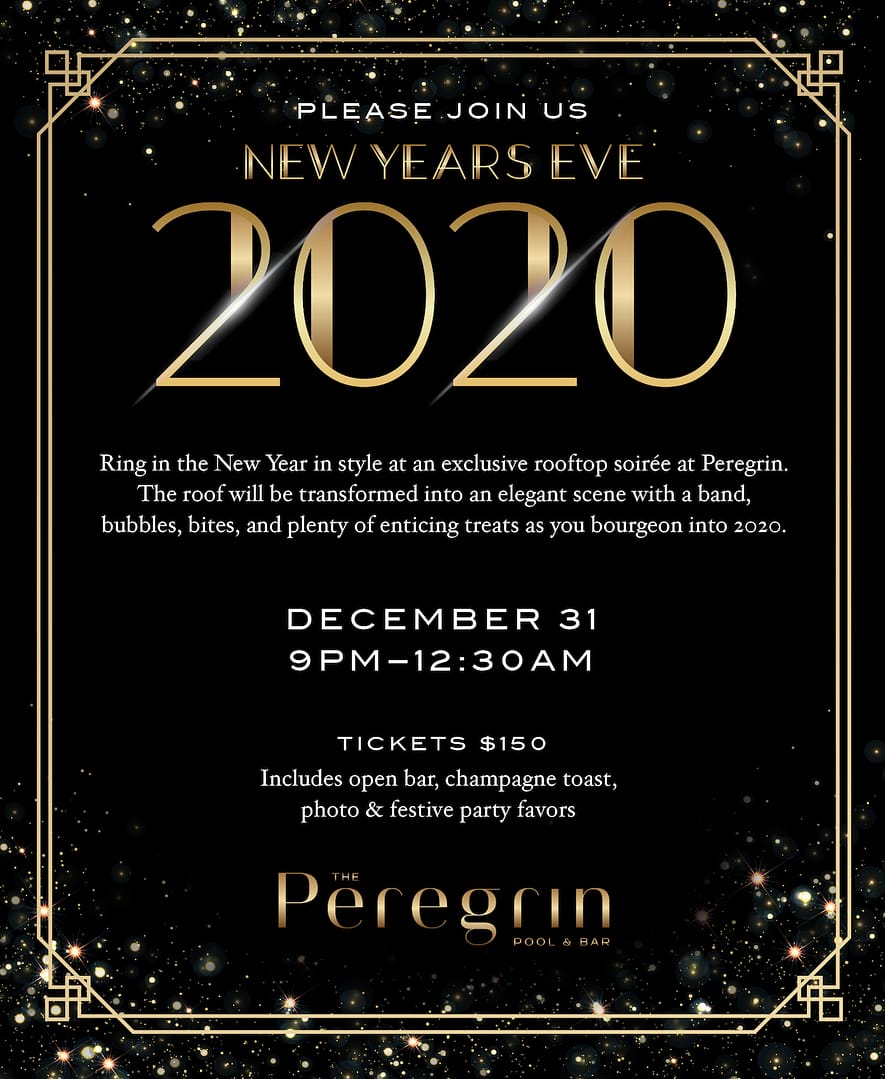 Movie Night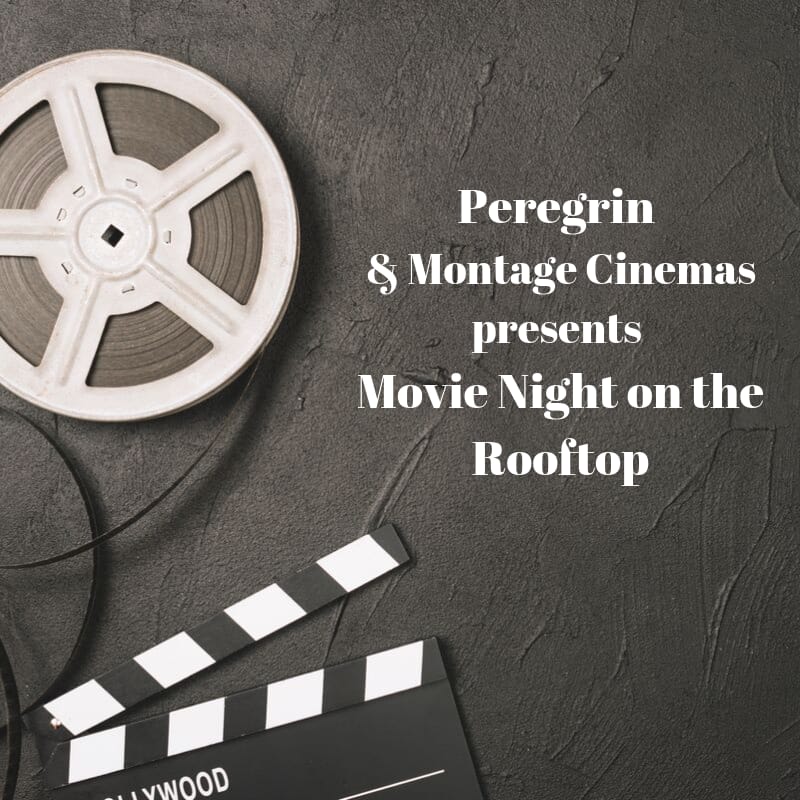 Peregrin & Montage Cinemas present Movies on the Rooftop
We are pairing up with Montage Cinemas to bring you a movie night on the rooftop with a 16ft screen!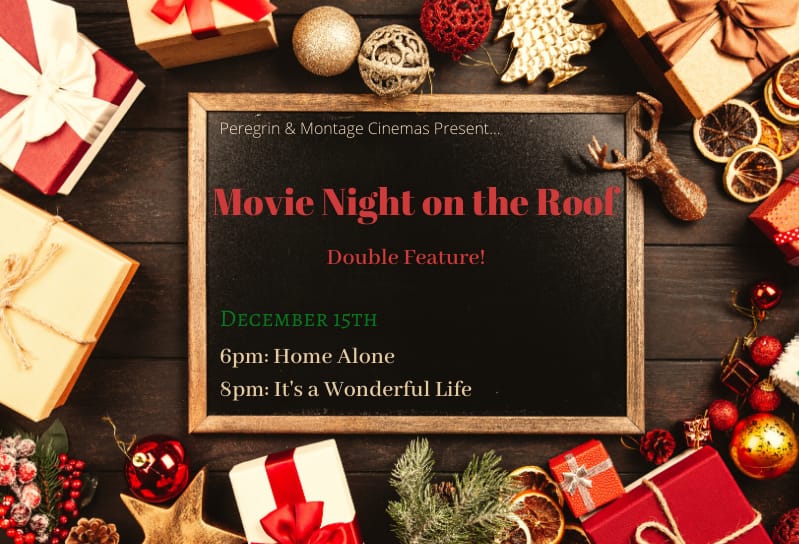 With all Hallows Eve right around the corner, we will be getting in spirit by featuring Rosemary's Baby.
We will be offering specialty snacks to satisfy your movie munchies.
(For mature audiences)
8-10pm on Oct 31
November 20th
8pm-10pm
Featuring La La Land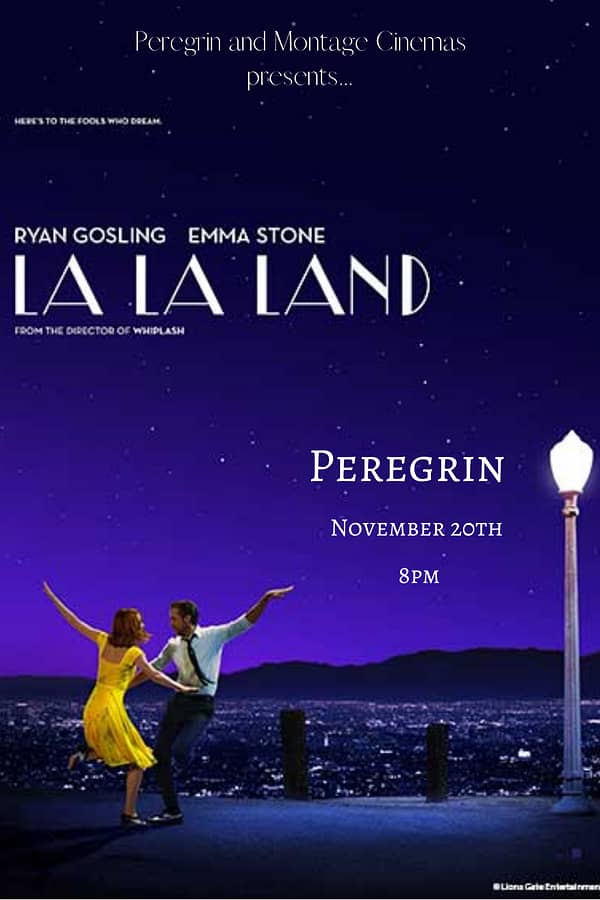 We will be offering specialty snacks to satisfy your movie munchies.
This event is free to the public.
November 27th
8pm-10pm
Featuring First Man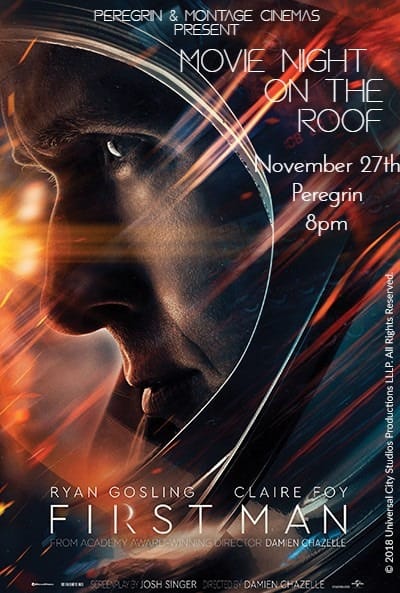 We will be offering specialty snacks to satisfy your movie munchies.
This event is free to the public.
Equinox
DJ Alex
Saturday October 19 from 8pm-11pm
More info
Fall for Clicquot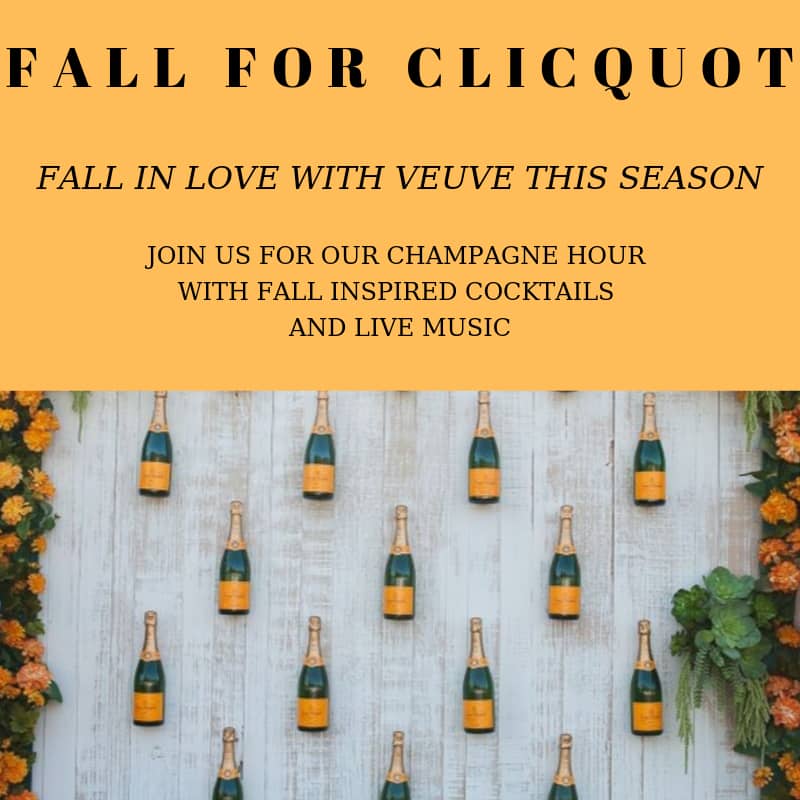 Fall in love with Veuve this season! Join us for our champagne hour with fall inspired cocktails and live music.
6-8pm w/ Benedetto Duo October 22
More info
Yelloween
Let us lure you to our rooftop bar, with a stunning view of one of the most haunted cities in world.
We have partnered with our friends at Veuve Clicquot to conjure up a night of style, spirits, and a sinfully good time.
Come dressed to impress in your best 'scary chic' costume that contains an element of yellow to represent Veuve, for a chance to win prizes.
6pm on October 24
Tickets: 20.00 per person
Satchel Pillow Pop-up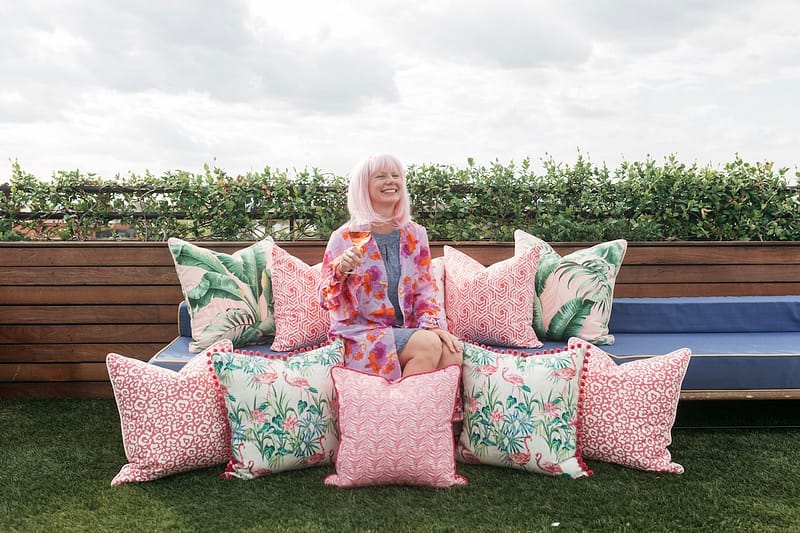 Come sip and shop to benefit Susan G. Komen Coastal Georgia
There will be custom-made pillows made by Alison Seeger Custom Slipcovers, as well as gorgeous satchel. products .
They will also be raffling off items to benefit Susan G. Komen.
Peregrin will be rolling out the Damrak Gin cart to offer specialty cocktails and a portion of the proceeds will go to the foundation.
"In honor of all the women who brave the fight, who smile courageously, who wake up every day determined to overcome every obstacle; To the women who never give up, you are warriors, and we stand with you."
5-8pm October 13th